Below is just some of the feedback we've received:
Feline Interactive: online case and discussion based CPD for general practitioners
September 2022
Informative presentations in a friendly and informative approach which is all useful for first opinion practice. Inspires me to do more.
Really useful course, great refresher of CKD/thyroid/OA in a very practical way and having not seen any FIP cases recently, really interesting, and all new (to me) info re recent developments in therapy, so really felt like I learnt loads. The links to the client handouts and professional guidelines for various things is so helpful as can store and find easily post course when I need it. Thanks both!
Delivered at a good level and the interactive element was really interesting.
It was a very good combination of refreshing the basics and discussing advanced, sharing experiences and practical tips.
Really enjoyed online. Still interactive, with the chat box function worked really well. But took the stress out of having to get to an in-person CPD, especially with childcare to consider.
Very successful. Whilst always great face to face and to chat reduces time and cost and risks.
Really great online, don't think it took anything away from it.
I thought it worked very well especially as it was quite a small group so everyone could chat.
Worked as well as an "in person course" if not better as I could ask questions as we went along rather than at the end trying to remember things I wanted to ask.
For me this worked perfectly. I concentrate better at home.
---
Feline Interactive: live, online, case and discussion based CPD for general practitioners (May 2022)
May 2022
I thought it was excellent - I really enjoyed how interactive it was.  The speakers were flexible and welcomed input and there were some wonderful fellow attendees with really useful input. Sarah and Sam did an excellent job of responding to the chat questions as well as doing their presentations!
I found the case studies very interesting and helpful. I feel that I am more engaged with the topic and can apply knowledge to 'real life' cases in practice
It was very interesting with loads of new information that I was unaware of, but not too technical that I couldn't follow it. Really engaging and stimulating discussions
Lovely and relaxed, kept to good time
It worked really well for me. I don't feel anything was lost by it not being in person. It was much easier for logistics of childcare!
Worked better than I thought it would
I initially didn't like on-line events, but I find they make it much easier to be interactive as questions can be posed via message without interfering with host talking. You can interact real time rather than waiting until end of a talk to pose a question. Much less intimidating than a lecture
A lot of practical stuff that I can use in my first opinion - not too affluent practice so very useful. Good to have CPD that isn't all about doing a CT or many-many blood tests
Online very convenient - I have a young son and the fact that the course is online has allowed me to drop him off and pick up from school but I can still enjoy the excellent CPD
(The course) went well, the technology worked and we ran to time with plenty of time for questions and discussion - this part is often compromised and I think it is important
Strictly evidence-based, very scientific approach. Lots of space for discussions and upfront regarding approach in real clinical cases.  Not only a theory course
Loved the online approach! Definitely should be the way forward for most CPD hopefully
I liked how it was interactive and can discus real cases. Very helpful and useful. So being online was as good as in person in that respect'
---
Compliance to medications: challenges and solutions
---
Successful management of feline idiopathic cystitis
Very nice and informative course to refresh knowledge
---
Chronic kidney disease - all a carer needs to know (pet owners' webinar)
---
Gold standard care of elderly cats
An excellent course for anyone interested in the health and wellbeing of elderly cats. Sadly some cat owners seem to accept that weight loss and polydipsia is the 'norm' in elderly cats. I wish this course was compulsory for cat owners.
---
Maintaining health in the older cat (pet owners' webinar)
This is a fantastic resource for owners with elderly cats, thanks so much.
---
Optimising diagnosis and management of feline hyperthyroidism (2016)
This is the third Vet Prof feline course I have done. I find them really interesting, not too technical and the information is really useful and user friendly. A great way of learning more about our feline friends and getting our CPD hours is a bonus.
This was a really helpful course I thought it may be above my understanding but I really enjoyed it, thanks.
---
Management of Anorexic Cats Online Lecture
Very well presented, not too technical but very informative and interesting.
It was a joy to listen to a lovely practical lecture & to receive practical help so quickly.
Interesting and useful information, just the right level for the general practitioner.
Excellent & practical.
---
Feline Kidney Disease Distance Learning Module
As a Veterinary Nurse, I found the information provided very useful, especially for encouraging clients to come to nurse clinics for more regular assessments and ensuring clients were aware of the necessity for these checks
Having the book and notes were excellent and much easier for me to learn from. It is great you offer both.
Thoroughly enjoyed it. Useful information provided in a way that is easy to understand
Very useful and practical course. Great notes and photos
Very informative course, easy to fit around hectic life
Excellent and very informative. Very enjoyable course.
I loved it and would like more courses on elder cats; no one gives them the attention the deserve!
Clear informative webinar - excellent written notes and support files, the book gave a very useful approach to helping owners understand the disease.
I find Sarah Caney's lectures to be very clear indeed and full of relevant information for first opinion practitioners.
Aimed at a very good level of understanding and easy to follow. As a nurse who has attended several CPD courses on feline CKD, I am pleased to say I learnt something new from the webinar! Thank you!
---
London Vet Show
15th & 16th November
Thank you so much for these two lectures. I thoroughly enjoyed the delivery and the content was invaluable
Jane Lamont RVN
I thoroughly enjoyed the two senior cat talks you gave at London Vet Show
Hannah Radcliffe, Stow Veterinary Surgeons
Thank you for a great lecture, I always come away from yours feeling so much better about how to do things!
Many thanks for your 2 excellent talks at London Vet Show. They were informative and practical as always
... a very informative lecture from Sarah Caney
I was lucky enough to see your lectures at the London Vet Show on Friday, I am a new graduate and they were both so informative whilst making it all seem a little less scary!
Kirsten, Vet
The information given was interesting and very applicable
Congratulations for amazing lectures you made last 15th and 16th of November at London Vet Show. I really find them very useful
Diana
Elderly Cat CPD Course
February 2018, London
Thank you so much for the wonderful cpd course today, I thoroughly enjoyed it. Dr Sarah Caney was a superb speaker, so informative and I left with lots of ideas for our cat clinics and applying for our practice accreditation to be a cat friendly clinic. The new venue was ideal too, so conveniently located. 5 stars all round!
I really enjoyed it all, the location was great, we received great food and the topic was very interesting, an excellent course. 9/10
I thoroughly enjoyed the course, lots of practical tips to help with setting up geriatric cat clinics and obtaining accreditation to be a cat friendly practice. Superb, very informative and approachable lecturer. Loved how practical she was in terms of first opinion practice and truly passionate about her subject. Excellent Course, Excellent venue, beautifully refurbished! Great Cpd in Every way!
The course was well structured, The lecturer was excellent, knowledgeable and an expert in the field, excellent course, Lecture space good Lunch good. Good amount of breaks in between lectures
Excellent course, excellent lecturer, good new venue easy to find, catering good. 9/10
Don't Fear the Feline!
March 2023
Mix of cutting edge/new ideas and down to earth/practical ideas for use in general practice (ie not too highbrow!)
I have been in practice for 42 yrs but still found it useful and engaging
Really well done as an online event, meant I could still do the CPD day even with having to collect kids etc
For me it was a great benefit being online, it meant I could 'attend' the course but still be at home to look after the children.
I enjoyed the format. It was structured but relaxed.
Online is perfect!! hate the faff involved with in-person courses, a bit old-style nowadays
Really liked it being online, gives me good flexibility. I am neurodivergent and I like being able to do CPD like this from home. Loved that I could chose the level of interaction; some days I can interact a lot and others not so much and I really appreciated that autonomy and emphasis on it being however I want to learn.
I think you are doing an excellent job. And I personally concentrate much better from home.
---
Practical Feline medicine: focus on elderly cats
September 2016
Very enthusiastic, good GP level, good update/refresher
Very practical + helpful tips in practice
Very relevant to us in general practice, which is not always the case with CPD! Useful to have the behavioural aspects as well
Very satisfied, thank you for an excellent course
Fantastic two-day course - the content has certainly refreshed and updated my knowledge on feline medicine and behaviour. The speakers were excellent and clearly enthusiastic and knowledgeable in their subject. I look forward to attending future Vet Professionals courses
---
Practical feline medicine: focus on renal disease (Leeds-Garforth)
June 2016
Excellent course content - topical and immediately useful to general practices.
Very much delivered to a suitable level.
This was a very good CPD course, thank you.
Pitched perfectly.
---
Practical feline medicine: focus on renal disease (Newcastle)
June 2016
Excellent course content - topical and immediately useful to general practices.
Very much delivered to a suitable level.
This was a very good CPD course, thank you.
Pitched perfectly.
Really great CPD - thank you!
Very satisfied
Fantastic course, thoroughly enjoyed and benefited
---
Feline CKD: optimising client communication and patient outcome (sponsored by Purina)
May 2022
Thank you for the clear, content-rich lecture on an important piece of CKD management. Thank you for your professionality.
Feline Systemic Hypertension (sponsored by Ceva Animal Health)
March 2020
Thanks so much for this course, I found it so-so helpful! I have found your 4 bite sized tutorials to be very helpful. I also really enjoyed the little quizzes that unlocked the next section.
Feline Hypertension Webinar (sponsored by Feline Friends)
11th December 2019
Enjoyable and extremely informative as always... looking forward to future webinars.
These lectures are invaluable to cat owners, thank you very much.
This was a very useful webinar, thank you!
Keep up the great work!
All of it was excellent.
Kidney disease in cats Webinar (sponsored by Feline Friends)
27th February 2019
Good experience of many real cases being presented rather than just lab or theoretical ideas.
Brilliant from start to finish, wish it had been longer! Great to have the opportunity to pose questions at the end.
Sarah is the most outstanding speaker for Veterinary and Owner webinars. I always come away feeling well informed and highly motivated. Thank you so much. From an RVN
Very interesting information. Good that not need to pay money to learn
Thank you very, very, very much, Sarah and all of you
Your webinars are excellent!!!! The length of the webinars is perfect, the way they are organized too, the option to download the presentations later. They really helps to give our furry friends the best life we can. Thanks
Thoroughly enjoyable and excellent advice and information as always from the fantastically knowledgeable Sarah Caney
FFA is doing such a great job in helping cats owners. I live in Italy and try not to miss the great webinars. Thank you!
Thank you very much, it was a very good initiative
Great length of webinar, easy information to follow
Feline Hyperthyroidism Webinar (sponsored by Feline Friends)
19th December 2018
A brilliant webinar, as always Sarah Caney delivers a clear and very informative webinar. Keep up the great speakers. Thank you
"Thank you this was wonderful"
"Thank you very much"
"Thank you very much from me and for helping make a positive difference to the well-being of cats"
"Excellent speakers, excellent presentation. Webinars provide fantastic resource"
"Thank you for giving our feline companions the importance they sometimes lack in some circles"
"Thank you for providing this service. Having had cats with kidney issues, I'm trying to be proactive with my present cats - hoping to avoid issues that sometimes seem inevitable. Regardless of the topic, I'm sure there's something I can learn. Plus I see examples of what good vets and good care can/should be"
Arthritis Webinar sponsored by Norbrook
19th September 2018
I've just listened to your webinar and wanted to say how very useful your tips and guidance were. It's inspiring to know there are people like you who care so much but also take a pragmatic approach when it comes to treatment and management.
Feline Hyperthyroidism, sponsored by MSD
27th February 2018, Sarah Caney
I make a point of looking out for your webinars, they are always so accessible, relevant, and at the same time very enjoyable. I feel my feline nursing skills have greatly improved as a result.
Caring for Older Cats, sponsored by The Webinar Vet and Feline Friends
21st February 2018, Sarah Caney
96% of attendees rated the presentation as 'excellent' or 'very good'
Thank you for the great work you are doing! Keep it up.
Grateful for coverage of an engaging topic
Please don't stop here. What about more feline specialists, cat only vets and special feline centres for treatment and research? Cats have been treated like small dogs for too long.
Thank you for offering this. My cat is young and well at the moment but these webinars prepare me for any future problems. Very helpful and informative and encouraging.
Thank you very much! I'm finding these sessions so useful, and am already looking forward to dialling into next month's
I would like to say thank you for the opportunity to learn from the experts
Thank you so much, really looking forward to learning more and spending the knowledge :)
Excellent informative session, v. thorough and impressed with the length.
Wish I knew about it years ago
Great webinar and information. Nice clear speaker.
Thank you, a brilliant webinar, much useful information.
It has been amazing so far and I can only thank the speakers etc for doing this for free! Thanks again
Thank you all Feline Friends Academy team and Dr. Caney for an absolutely fantastic webinar!!! Dr. Caney was superb, both communicating and the amount and type of information provided.
Great webinar. Glad it ran over as I found it all interesting.Good content and kept interest.
ISFM: Feline Hyperthyroidism - overcoming the challenges
14th September 2016, Sarah Caney
I have just watched your webinar tonight and it was just brilliant!
I have just watched your very informative webinar on feline hyperthyroidism, thank you so much
---
Norbrook: Senior Cat Care Webinar - maintaining health in the older cat
September 2016, Sarah Caney
Thank you for a very informative and interesting webinar
Your talk was most informative and enjoyable thank you. As the proud carer of my own very special senior cat I am aware, despite his youthful appearance, how important it is to maintain regular health checks and appreciate the tips you provided
Thank you for a wonderful insight into the world of healthcare in elderly cats
I have just listened to your webinar in relation to Senior Cats and their needs. I found it very useful and I will definitely apply what I have learnt to my role
You have a very flowing presentation and put across a lot of information with clarity but also with detail, thank you
Thank you for your very interesting presentation… I will definitely be implementing some of your advice
Thank you very much for the extremely interesting and clear webinar. I very much enjoyed it and have learned some new things about mental dysfunction which I have for a long time suspected in one of my two girls as well as tips on how to entice eating and drinking
---
ISFM: Chronic Kidney Disease - an update and presentation of new CKD guidelines
16 March 2016, Sarah Caney
Many thanks for your brilliant webinar on CKD. As ever, your talk was informative, interesting, and I was awake the whole way through, which with three kids and a job, is not always the case!
Really great talk, many thanks - love the emphasis on pragmatic decision making
Many thanks for the beautiful presentation! A lot of practical information to apply from tomorrow morning!
I would like to thank you a lot for that great seminar last Wednesday! It has been a pleasure to follow and I learned a lot
Thank you so much for an excellent webinar. You have inspired me to get on and start proper geriatric wellness clinics
---
Hill's: Feline CKD - what's new in diagnosis and treatment?
7 September 2016, Sarah Caney
Your webinar was great. I want to share info with others in my practice
I've really appreciated the webinar and all the useful and informative material provided on your website
I would like to praise you for the amazing webinar you've presented today
Love them, so informative and very well presented
I appreciate your regular updates
Most enjoyable and informative
It is every time good experience
Thank you so much for all that you do through Vet Professionals. I've learned so much from you and my cats have benefitted enormously as a result
Dr Sarah Caney's Cat Café is an oasis of quality information on feline health and care in what is otherwise a desert of mediocrity
Just want to say a massive thank you. I am a human nurse and the information given in the sessions is at a good level to understand but also enough to make me think about things too! Thank you
The Cat Café talks are informative, have practical applications in the home environment and are presented in a very easy to listen to informal manner. I would highly recommend them. Aine, Ireland
Thank you most sincerely for this outstanding series, it is a truly invaluable resource for committed cat owners. It can help us help our vets to care for our cats by allowing us to more accurately observe our cats and note any significant changes or causes for concern. Thank you to Sarah and all involved in bringing this Cat Café to us, it is very much appreciated. From Aedamair , mum of Birman twins Poppy and Figaro
Nursing the sick cat at home: I watched this to look for methods to help improve telemedicine consults from a Vets point of view. I found it very useful. I always find Sarah Caney's webinars to have great content and are clear and concise. Thank you for all your resources and great content
I've attended and watched recordings of 2 sessions on CKD, which I found very informative. It was interesting to learn of the advances in treatment since I cared for my CKD cat in 2012. Thank you for providing a valuable service to cat owners!
Vet Professionals website is a great source of information which I have referred to for many years, Sarah's books too have been invaluable. Very happy with the support you are providing, particularly during this difficult time. Keep doing what you're doing, thank you!
Thanks for the care and effort to make cat care as up to date as medically possible
Very informative and helpful. I'll be joining again next week for sure.
(from Debs, carer of Buff)
I just wanted to thank you for the wonderfully informative Cat Café talks you are currently hosting. Living through these testing times is not made any easier when there are some conflicting and often confusing reports circulating out there regarding our precious pets. Listening to a trusted voice such as yours has provided much needed reassurance and clarity and has certainly helped to allay the worries and concerns us cat owners have been experiencing. Your talks are helping to restore a sense of calm and put things in perspective so thank you for taking the time to run these, it really is appreciated.
(from Mel, carer of Rufus)
Very much enjoying watching the Cat Café recordings, really informative and helpful - they are a fantastic idea.
(Kirsty, carer of Nico, Elmo and Percy)
"Thank you very much for your entire wonderful input on sharing knowledge"
Marcin Wolski DVM
"I very much enjoy your ten minute vet tips on your website. They are really useful and I like that I can learn some helpful information in my breaks at work! It's good to have accessible, relevant cpd in small bites. In particular the ocular exam using a hand lens is great."
Laura Atkinson MRCVS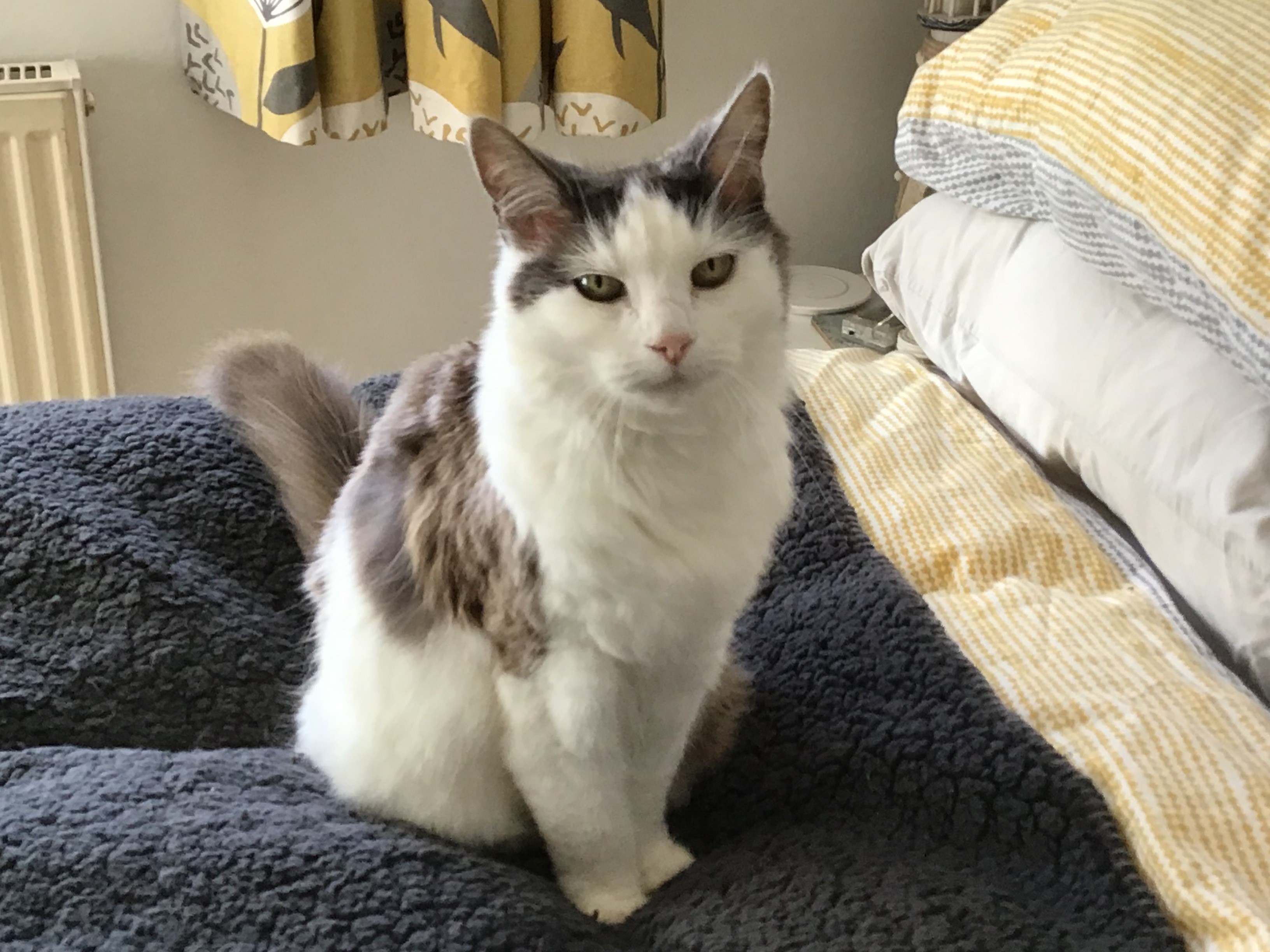 One of the most magical memories of 2022 was the hope you gave us with Misty and the amazing care and support, teaching us how to look after her with KD.

It has been a God send, she has put on weight, her test results have improved and she is thriving on your fantastic treatment plan.

We are so grateful to you and your team and would like to wish you all a very happy new year.
Simone & Mark, Misty's owners