An online survey of dietary and phosphate binder practices of owners of cats with chronic kidney disease
J Feline Med Surg. 2016 Oct 17. pii: 1098612X16672999. [Epub ahead of print]
Caney SM1.
Author information:
1 Vet Professionals, Midlothian Innovation Centre, Roslin, UK. sarah@vetprofessionals.com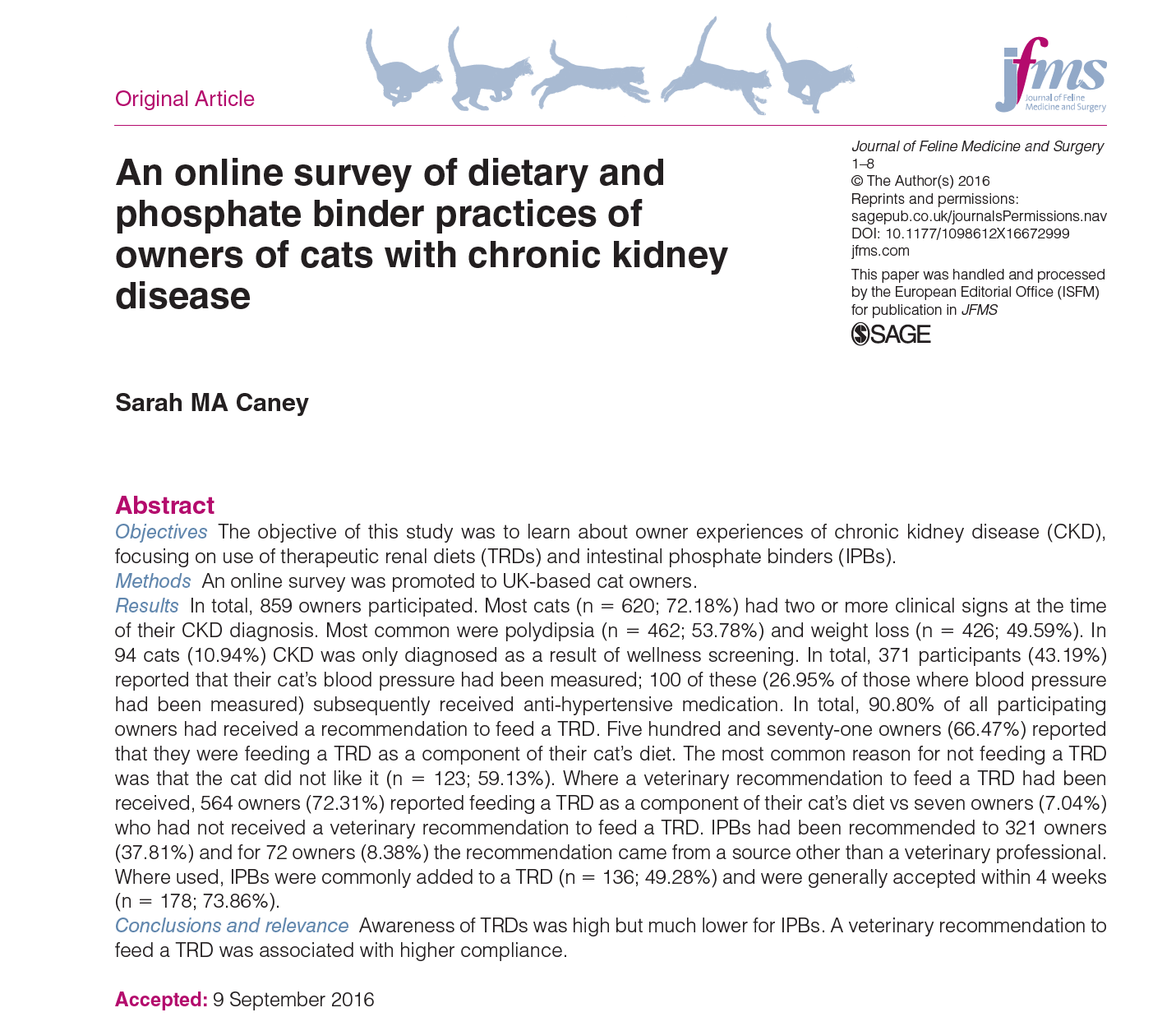 OBJECTIVES:
The objective of this study was to learn about owner experiences of chronic kidney disease (CKD), focusing on use of therapeutic renal diets (TRDs) and intestinal phosphate binders (IPBs).
METHODS:
An online survey was promoted to UK-based cat owners.
RESULTS:
In total, 859 owners participated. Most cats (n = 620; 72.18%) had two or more clinical signs at the time of their CKD diagnosis. Most common were polydipsia (n = 462; 53.78%) and weight loss (n = 426; 49.59%). In 94 cats (10.94%) CKD was only diagnosed as a result of wellness screening. In total, 371 participants (43.19%) reported that their cat's blood pressure had been measured; 100 of these (26.95% of those where blood pressure had been measured) subsequently received anti-hypertensive medication. In total, 90.80% of all participating owners had received a recommendation to feed a TRD. Five hundred and seventy-one owners (66.47%) reported that they were feeding a TRD as a component of their cat's diet. The most common reason for not feeding a TRD was that the cat did not like it (n = 123; 59.13%). Where a veterinary recommendation to feed a TRD had been received, 564 owners (72.31%) reported feeding a TRD as a component of their cat's diet vs seven owners (7.04%) who had not received a veterinary recommendation to feed a TRD. IPBs had been recommended to 321 owners (37.81%) and for 72 owners (8.38%) the recommendation came from a source other than a veterinary professional. Where used, IPBs were commonly added to a TRD (n = 136; 49.28%) and were generally accepted within 4 weeks (n = 178; 73.86%).
CONCLUSIONS AND RELEVANCE:
Awareness of TRDs was high but much lower for IPBs. A veterinary recommendation to feed a TRD was associated with higher compliance.
© The Author(s) 2016.
DOI: 10.1177/1098612X16672999
PMID: 27754938
---
Flat Feline Faces: Is Brachycephaly Associated with Respiratory Abnormalities in the Domestic Cat (Felis catus)?
PLoS One. 2016 Aug 30;11(8):e0161777. doi: 10.1371/journal.pone.0161777.
eCollection 2016
Farnworth MJ1, Chen R2, Packer RM3, Caney SM4, Gunn-Moore DA2.
Author information:
1 School of Biological Sciences, Plymouth University, Devon, United Kingdom.
2 The Royal (Dick) School of Veterinary Studies and The Roslin Institute, University of Edinburgh, Edinburgh, United Kingdom.
3 Department of Clinical Science and Services, Royal Veterinary College, Hatfield, Hertfordshire, United Kingdom.
4 Vet Professionals Limited, Midlothian Innovation Centre, Pentlandfield, Roslin, Midlothian, United Kingdom.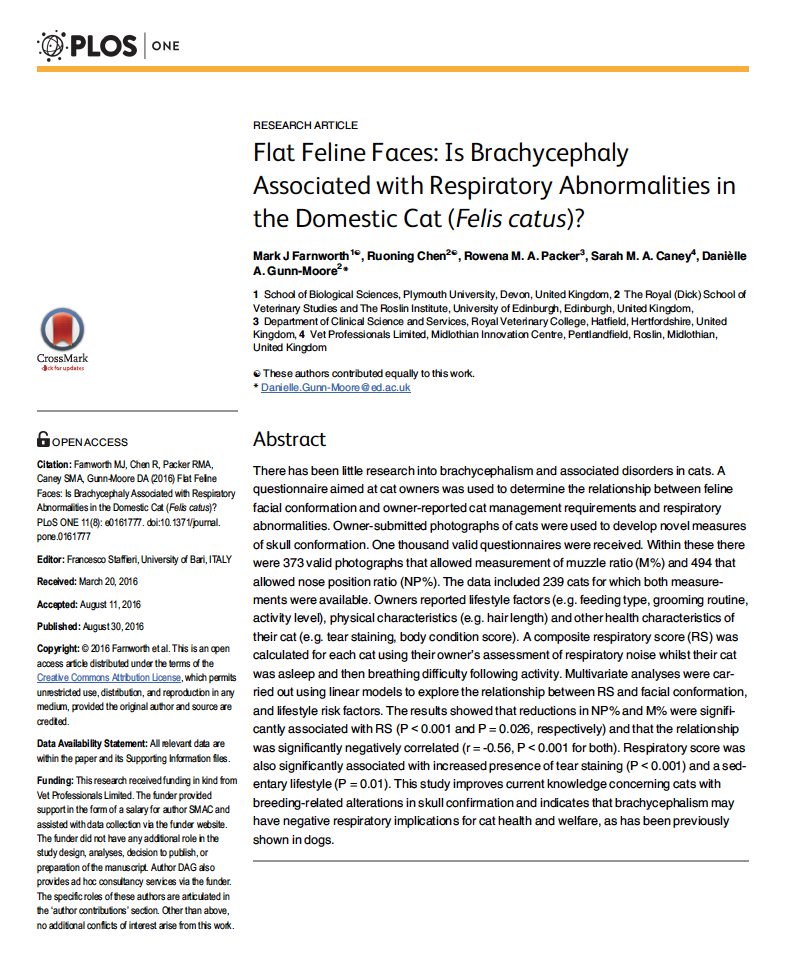 There has been little research into brachycephalism and associated disorders in cats. A questionnaire aimed at cat owners was used to determine the relationship between feline facial conformation and owner-reported cat management requirements and respiratory abnormalities. Owner-submitted photographs of cats were used to develop novel measures of skull conformation. One thousand valid questionnaires were received. Within these there were 373 valid photographs that allowed measurement of muzzle ratio (M%) and 494 that allowed nose position ratio (NP%). The data included 239 cats for which both measurements were available. Owners reported lifestyle factors (e.g. feeding type, grooming routine, activity level), physical characteristics (e.g. hair length) and other health characteristics of their cat (e.g. tear staining, body condition score). A composite respiratory score (RS) was calculated for each cat using their owner's assessment of respiratory noise whilst their cat was asleep and then breathing difficulty following activity. Multivariate analyses were carried out using linear models to explore the relationship between RS and facial conformation, and lifestyle risk factors. The results showed that reductions in NP% and M% were significantly associated with RS (P < 0.001 and P = 0.026, respectively) and that the relationship was significantly negatively correlated (r = -0.56, P < 0.001 for both). Respiratory score was also significantly associated with increased presence of tear staining (P < 0.001) and a sedentary lifestyle (P = 0.01). This study improves current knowledge concerning cats with breeding-related alterations in skull confirmation and indicates that brachycephalism may have negative respiratory implications for cat health and welfare, as has been previously shown in dogs.
DOI: 10.1371/journal.pone.0161777
PMCID: PMC5004878
PMID: 27574987
---
An online survey to determine owner experiences and opinions on the management of their hyperthyroid cats using oral anti-thyroid medications
J Feline Med Surg. 2013 Jun;15(6):494-502. doi: 10.1177/1098612X13485481. Epub
2013 Apr 16.
Caney SM1
Author information:
1 Cat Professional, Vet Professionals Ltd, Midlothian Innovation Centre, Pentlandfield, Roslin, UK. sarah@vetprofessionals.com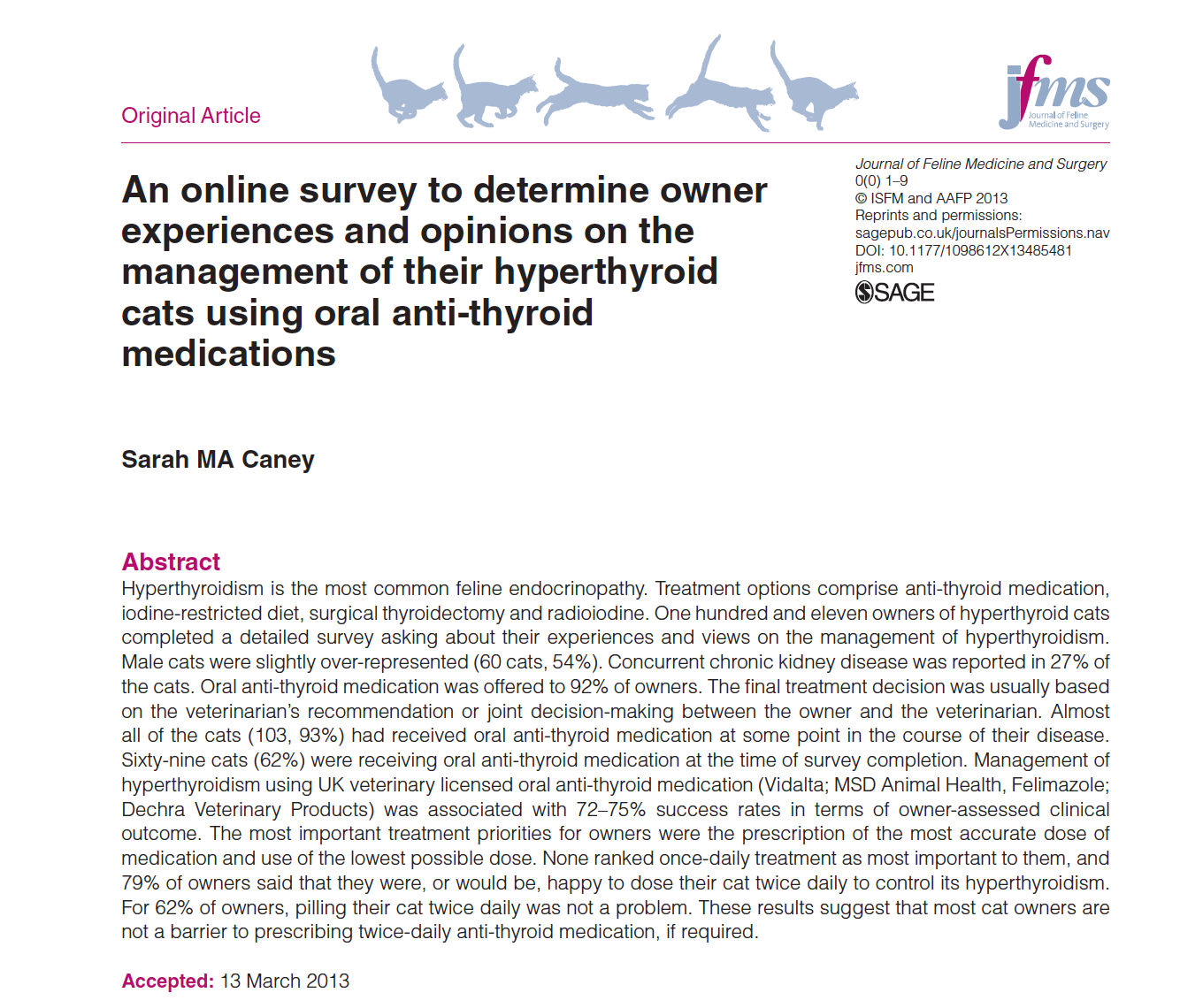 Hyperthyroidism is the most common feline endocrinopathy. Treatment options comprise anti-thyroid medication, iodine-restricted diet, surgical thyroidectomy and radioiodine. One hundred and eleven owners of hyperthyroid cats completed a detailed survey asking about their experiences and views on the management of hyperthyroidism. Male cats were slightly over-represented (60 cats, 54%). Concurrent chronic kidney disease was reported in 27% of the cats. Oral anti-thyroid medication was offered to 92% of owners. The final treatment decision was usually based on the veterinarian's recommendation or joint decision-making between the owner and the veterinarian. Almost all of the cats (103, 93%) had received oral anti-thyroid medication at some point in the course of their disease. Sixty-nine cats (62%) were receiving oral anti-thyroid medication at the time of survey completion. Management of hyperthyroidism using UK veterinary-licensed oral anti-thyroid medication (Vidalta; MSD Animal Health, Felimazole; Dechra Veterinary Products) was associated with 72-75% success rates in terms of owner-assessed clinical outcome. The most important treatment priorities for owners were the prescription of the most accurate dose of medication and use of the lowest possible dose. None ranked once-daily treatment as most important to them, and 79% of owners said that they were, or would be, happy to dose their cat twice daily to control its hyperthyroidism. For 62% of owners, pilling their cat twice daily was not a problem. These results suggest that most cat owners are not a barrier to prescribing twice-daily anti-thyroid medication, if required.
DOI: 10.1177/1098612X13485481
PMID: 23591627  [Indexed for MEDLINE]